BIOGRAPHY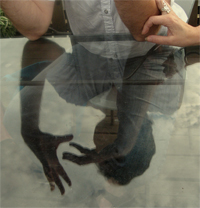 Philippe Leduc was born during the Indian summer on October 23. Always fascinated by music, he didn't acquire his first guitar until he was sixteen. From songs to shows, he decided to make his life in music and obtained his bachelor's degree in composition at the Faculty of Music at Université de Montréal in 1975.
While still a student, in December 1974, he won his first professional contract: orchestration of beautiful traditional Christmas melodies for wind quintet, percussion, and four mixed voices for the cultural network of Radio-Canada. But before truly launching his career as a composer, he did a practicum as a television announcer for Radio-Canada. One thing led to another, and he was offered a position as an advertising copywriter, which gave him a good grasp of the inner workings of that industry.
Thus, like many young producers, it was through advertising that Philippe earned his stripes as a professional musician. He founded Les Productions de L'Encrier and began to create ad music for prestigious clients, among them Bell Canada, Metro supermarkets, National Bank of Canada, Coca-Cola, Molson Brewery, GM, The Bay, Culinar, Shell, Canada Post, Labatt Brewery, and McDonald's. His advertising activities reached a peak when he founded La 25e Piste featuring a Synclavier, at the time the ultimate in the nascent field of digital music. Surrounded by experienced collaborators, including Scott Price, Gaétan Essiambre, and Daniel Scott, Philippe and La 25e Piste dominated advertising music production in French Canada for a number of years.
But soon, television came knocking on Philippe's studio door. In 1992, he composed the theme music for Découverte (SRC), which he has continued to evolve up to the present. He has created the music for the programs Zone libre (SRC), Le Téléjournal (SRC), Enquête (SRC), Docs en stock (SRC), Les Beaux Dimanches (SRC), Parcours (TV5), the Olympic Games in Calgary, Seoul, Albertville, Atlanta, and Nagano (SRC), Autrement dit (TQ), À tout prix (SRC), Le Septième (TQ), Plus ça change (TQS), Montréal Express (SRC), La Tête de l'emploi (SRC), Wizz (SRC), Tamtam (SRC), Les Grands Reportages (RDI), Le Club des ex (RDI), La Vie en vert (TQ), Le National (RDI), and several miniseries, including The Lost Daughter, starring Richard Chamberlain, produced by SAT1 (Germany), and broadcast around the world. His career in television has been studded with awards.
Philippe also collaborated for almost a decade with the Disney studios to adapt French songs for numerous animated features, including Toy Story 1 and 2, The Little Mermaid, Mulan, Pocahontas, The Hunchback of Notre-Dame, Hercules, and Aladdin, in which he was the musical incarnation of the horrible Jaffar.
Nobody's perfect...
In spite of this buzzing professional activity, Philippe found the time to compose a number of symphonic suites. In 1993, Éclair de Lune, recorded with the National Philharmonic Orchestra of London, won the Félix award for instrumental album of the year. Two years later, he followed up with The Wings of Fire, volume I, Blood, which also won a Félix, in 1996. Propelled to the cultural forefront by a program broadcast on Radio-Canada's Beaux Dimanches, and rebroadcast many times on Bravo!, this symphonic suite has had great critical and popular success.
In 1997, Éditions Stanké published Philippe's first novel in the historical epic, Les Ailes du Feu, illustrated by the musical tableaux of The Wings of Fire. The launch of the symphonic suite The Wings of Fire, volume II, Toil, was also accompanied by the broadcast of two special TV programs on Radio-Canada's Beaux Dimanches on Bravo! and Radio-Canada. One of the stand-out pieces on this album, Katarina, generated a huge number of calls and requests from music-loving radio listeners.
In a departure from his usual work, in December 2004, Philippe arranged and produced, in collaboration with Stéphane Venne, the song Le Ciel est à moi, the first single off Marie-Élaine Thibert's eponymous album, certified triple platinum with more than 300,000 copies sold.
Four months before the première of its show Corteo, Cirque du Soleil asked Philippe to compose the music for many numbers in this touring show that has gone from success to success since April 2005. After a brilliant tour of major cities in Canada and the United States, Corteo, directed by Daniele Finzi Pasca, is sold out in Japan, and soon it will be off to conquer Russia, China, and Australia, before undertaking a European tour. The run of this striking international hit will continue in the coming decade under the Cirque du Soleil big top.
In the fall of 2008, Société Radio-Canada once again came to Philippe to compose the theme music for its news department for television, radio, and its news channel, RDI. With more than a thousand segments, this wide range of musical themes accompanies and punctuates the national news 24 hours a day from coast to coast.
In the spring of 2010, visitors to the Shanghai World Fair will be able to appreciate Philippe's music matched with a spectacular movie presentation titled Espace Montréal, devoted to the ecological revitalization of the Miron quarry, in the centre of the island of Montreal, produced by GSMPrjct°Integration, written by Gilles Dusablon, and directed by Dominique Skoltz.
Most recently, Philippe has devoted himself to the release of Diginada, an album of a stunning musical genre that combines his classic lyrical vein with the digital expertise that has given his career new impetus. He hopes to produce this very personal work on stage in the near future.
(to be continued)
Awards
2010 SOCAN Award
National Television Music
2005 Triple platinum (300,000 albums sold)
Marie-Hélène Thibert, self-titled album, arrangements, orchestration, and production of the song "Le Ciel est à moi"
2005 SOCAN Award
Movie and television music
2004 SOCAN Award
Movie and television music
2003 SOCAN Award
Movie and television music
2003 GEMINI Award
Best Musical Theme, Television, "Zone Libre"
2001 Grand Prize
Concours Grafika, "Docs en Stock"
1998 Harmony Award
42nd Competition for Films and Videos (Japan)
1998 Silver Award
New York Festival TV Programming and Television "Les Beaux Dimanches"
1996 ADISQ Awards
Prix Félix, Arranger of the Year "The Wings of Fire, Volume I"
1995 ADISQ Awards
Prix Félix - Instrumental Album of the Year "Éclair de Lune"
1994 SOCAN Award
Movie and television music